What is blocking?
What should I block?
How do I know what to block?
What tools do I need to block?
Great questions, crochet lovers! Blocking is vastly misunderstood, and rarely used in the crochet world. Knowing what questions to ask and arming yourself with some basic blocking knowledge will help to decide when, why, and how to block!
What is blocking?
Blocking is a finishing technique applied to fabrics we make when we crochet:
Blocking helps to smooth fabric, and even tension
Blocking encourages shapes, points
Blocking with fabric solutions can help to stiffen or soften fabric
What should I block?
Not everything you crochet requires blocking. In fact, some fibers will not take to blocking at all, and others will truly benefit from a good blocking session!
For example, plant and animal fibers (cotton) are highly susceptible to blocking. However, synthetic fibers (acrylic), might be encouraged into shape but won't really set with blocking.
How do I know what to block?
Consider two main elements in your crochet project: Fiber, Category.
Fiber: Read your yarn label and consider the characteristics of the fibers. Some fibers are stronger when wet (linen), some can become weak and delicate (cotton), and some fibers will felt (wool). Understand the strengths and limitations of the fiber you're using to determine if blocking will help or hinder your fabric, and project.
Category: If you're making a hat, basic scarf, or one-piece afghan, you can most likely skip the blocking! However there are quite a few projects that would greatly benefit to the uniformity that blocking can bring:
Motifs, or components that should all be the same size
Thread work, like doilies or jewelry, or ornamental pieces
Apparel, such as garments with multiple elements that require joining
Lace and openwork with chains and large spaces
Pairs of items (like gloves, socks)
What tools do I need to block?
Some projects can be blocked with general house-hold items: foam mats, T-pins, washing solutions, spray bottle, towels, etc.
After some trial-and-error, we found that good blocking techniques come with good blocking tools! Here are some tools we found to be very helpful when blocking small motifs and other fabrics: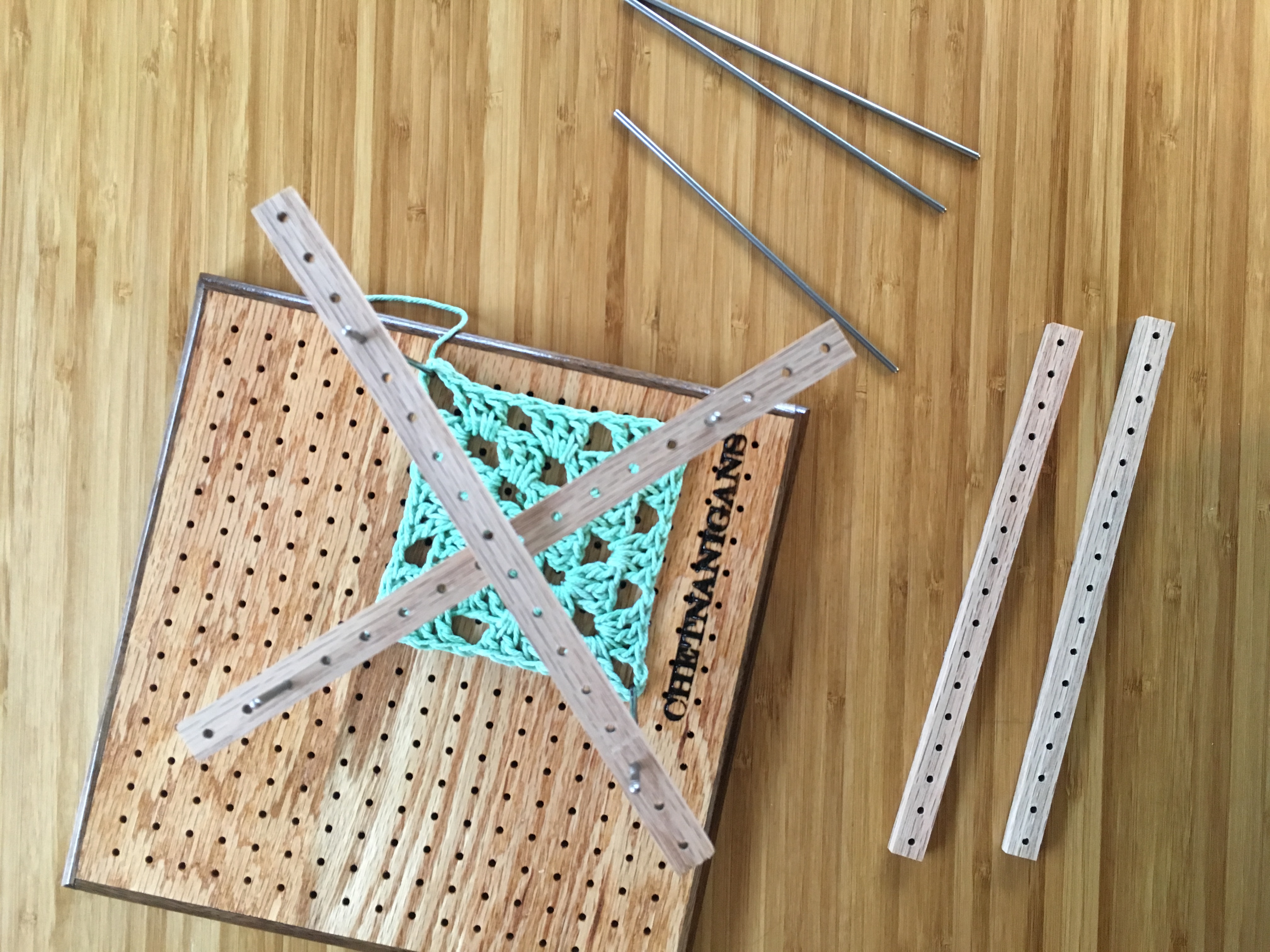 8″ Premier BlocksAll Ultra – If you're blocking stacks of motifs (granny squares, circles, triangles), this blocking board comes with stainless steel pins to block large stacks together at once. Larger items can be blocked in sections using this same tool; saving space in your office, and offering precision blocking!
Perfector Strips -These strips are a must when blocking large stacks of motifs together. Just slide them onto your pins to assure that each motif will block to be the same dimensions!
Peace, Love & Crochet
Salena
What do you think about blocking now?? Let us know in the comments!